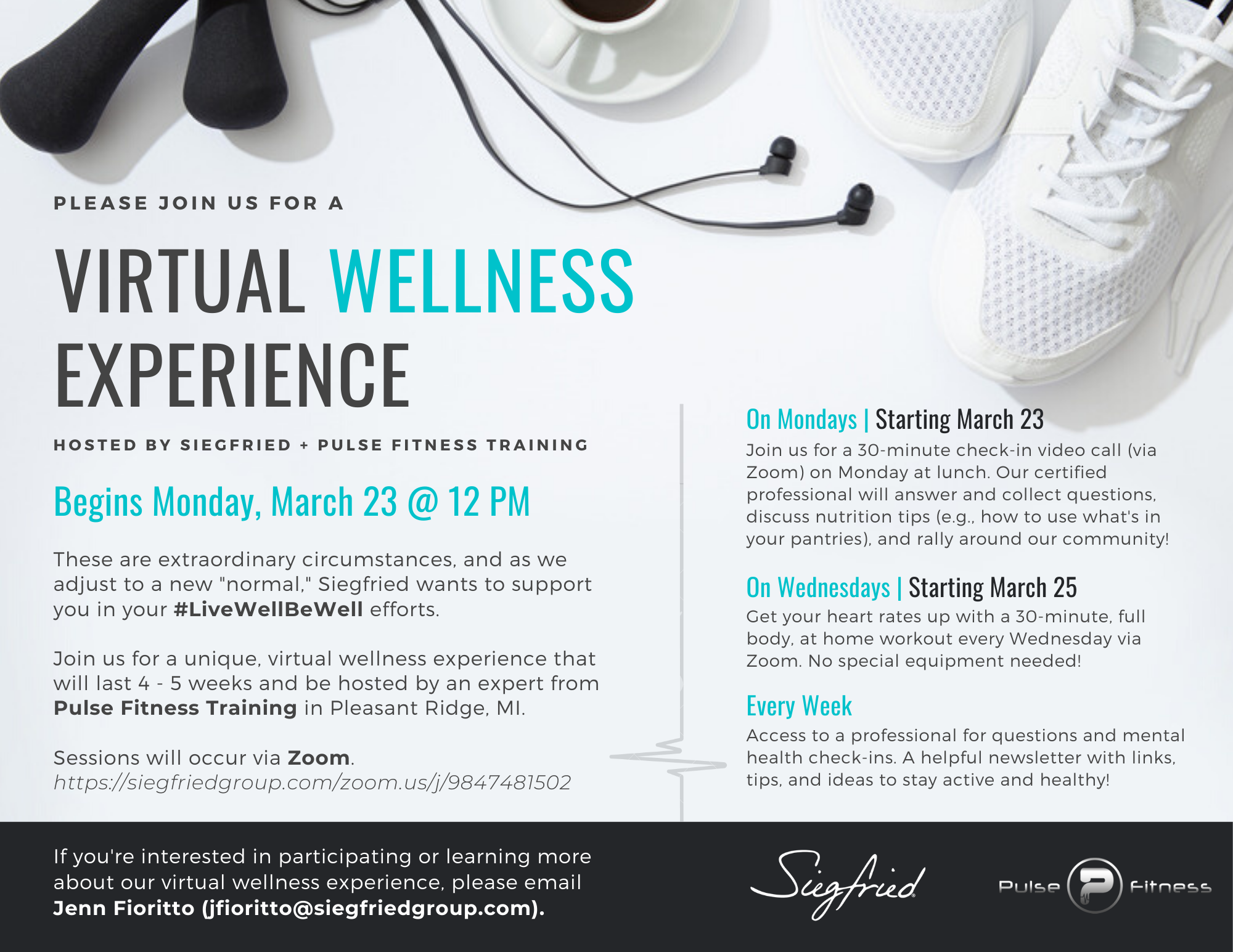 These are extraordinary times as we are all adjusting to the new "normal" but that doesn't mean our health and wellness must suffer!
Siegfried will be sponsoring a 4-5 week Unique Experience beginning Monday, March 23 at 12pm, with Health and Wellness Coach Danielle Shefferly from Pulse Fitness Training. Every Monday, Danielle will be giving a 30-minute session on what to use in your pantries and Tips and Tricks while stuck at home. Every Wednesday, Danielle will also be hosting a 30-minute workout session where she will show us unique ways to still stay active with the items in our homes.
As a bonus every Friday, Danielle will be sending out a weekly newsletter based on your questions and ideas to stay active and healthy!
Danielle and the Pulse team are here to help you throughout each week with questions and mental health check ins. Siegfried will be sending out their contact information after the first session Monday.
What:   Virtual Wellness Experience (Hosted by The Siegfried Group and Pulse Fitness)
Date:     Monday March 23 at 12:00pm – Check in & Q&A
                Wednesday March 25 at 12:00pm – 30 Minute Workout
RSVP:  Please RSVP to Jenn Fioritto (jfioritto@siegfriedgroup.com) and let her know the following:

If you will be attending
If you would like to bring a guest, please provide their name and email address
Questions or topics you want to hear on these zooms
NOTE: Can't attend during these times? Siegfried will be recording these sessions and sending out afterwards. If you wish to be added to these emails let Jenn Fioritto know.