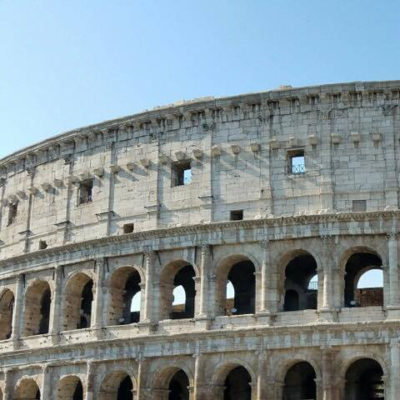 Dave, a valued recruiting partner of ours for the past several years, recently earned an Experience of a Lifetime trip for helping the Firm hire five new Professionals within our recruiting year.
"Working with Siegfried feels good," Dave said simply. "A lot of companies look at recruiters as an expendable vendor, but Siegfried has made it a priority to make me feel like a partner to them. We're part of the same team, we're working towards the same goals. And that's unique in the business I'm in. People are the lifeblood of an organization, and it's good to know Siegfried places such value in recruiting."
For his trip, Dave chose a Mediterranean Cruise with stays in Venice prior and Rome after. Dave and his wife, Sharon, didn't waste a moment of their time in Europe. "I've always wanted to go to Italy. And not just because I love Italian food and red wine," Dave said with a laugh.
They flew to Venice, where they had a short stay at the Hotel Danieli which overlooked the famed Grand Canal in Venice. The cruise's first stop was Dubrovnik, a city in Croatia and the set for Game of Thrones' King's Landing.
"Dubrovnik was absolutely unbelievable," said Dave. "Because the city sits along the Adriatic Sea, it used to get raided by pirates. So, they built these stone walls during the Middle Ages to protect the people and the city. We walked up the walls, and made our way into a few of the bars that have been placed there to help 'fatigued tourists' climbing the city walls," he said. "The architecture was stunning. Most of the buildings have these red terracotta roofs, but some are more orange. Those are the ones that were replaced after the city was damaged in the early 1990s during the Croatian War of Independence. It was so cool to feel all the history there."
After Dubrovnik, the cruise itinerary included Montenegro, Malta, Sicily, Naples; then finally back to Rome, where they stayed for three days and visited many of its' well-known spots: the Vatican, the Spanish Steps, the Pantheon, Circus Maximus, and the Trevi Fountain.  Some of the highlights from the cruise included tours of Taormina (Sicily), Pompeii (Naples) and a Blue Grotto tour (Malta).
"This really was a trip of a lifetime," said Dave, who couldn't pinpoint his favorite part of the experience. "We stayed in some beautiful hotels, including Hotel Danieli and the Baglioni Hotel Regina. We ate some great food and we saw things some people can only dream of. The whole thing was really well done."
"Incentives like this trip aren't really something you see a lot of," he continued. "I wouldn't have done this on my own and if the incentive was just money, I probably would have put it towards something else. But experiences are important, and this trip and any others I may earn are something that I really look forward to," he finished with a smile.
Below are a few of the pictures Dave shared from his trip!