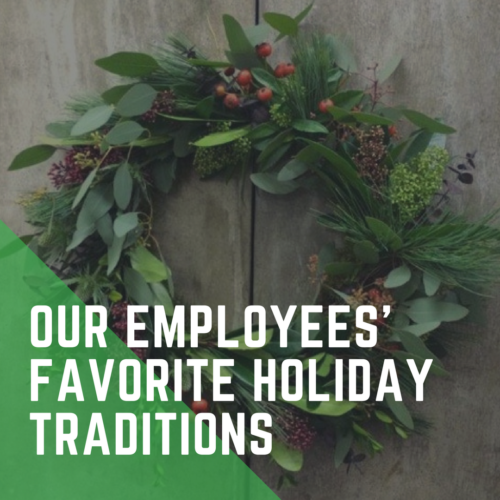 The days leading up to the holidays are some of the best parts of the year, so we wanted to find out what makes them so special. We asked a few of our Professionals to share their favorite holiday traditions, and we won't lie, they made us feel a little warm and fuzzy on the inside.
Brad Wickersham, Professional Resource Director, South Florida 
Every year, on the first Saturday of November, my family wakes up before dawn to tag our Christmas tree as the sun comes up. We have to be first or all the good trees are taken!
Aman Gill, Senior Associate, Philadelphia
Every year on Thanksgiving, my siblings and I take turns making the turkey while the other two make the sides. This gives our parents a break from working and allows them time to relax while we cook for the family. We have found this to be a lot of fun because the adults have a chance to hang out while my cousins, siblings and I spend time catching up in the kitchen making great food.
Jane Cairns, Associate Manager, Chicago
Growing up, we often spent Christmas at a beach town in Queensland, Australia, and without fail on Boxing Day, the TV would be set up outside and we would spend the day by the pool drinking, eating, and watching the Boxing Day test (cricket). By late afternoon, a crowd of friends and neighbors would gather for a game of street cricket.
Dan Hughes, Senior Associate, D.C. Metro
For as long as I can remember, my family has done a "Cookie Day" where all of the extended family and close friends get together a few weeks before Christmas and decorate thousands of cookies. The cookie numbers have topped 5,000 and the local news channel and Washington Post even came to do a story on us! It's a great time to spend the day with family and friends getting into the holiday spirit…and stealing from a bowl of icing every now and then!
Mike Lepatsky, CPA, CA, Associate Manager, New York Metro
When I was a kid, my family would rent "National Lampoon's Christmas Vacation" every Christmas. Not sure why we didn't just buy the VHS tape, maybe we just liked the added thrill of trying to find an open Blockbuster on Christmas Eve. I've watched that movie more than any person should. And even though it's been a while since I've seen it, I still get a warm fuzzy feeling inside whenever I see a picture of Chevy Chase in a bright red Santa's hat.
Bob Vecchione, CPA, Manager, Cleveland
Like many families across the states, the Vecchione family tradition centers around football. Since my freshman year of college at Ohio State, my Dad and I have attended the annual matchup with our biggest rival, Michigan. The year after I graduated, the game was permanently moved back a week and would be played the Saturday after Thanksgiving. Since then, our turkey day plans have been heavily influenced by where the game will be played that year.
Whether we're spending the holiday with my sister's family in Chicago or in Cleveland with my parents or in-laws, everyone in the family knows to count my dad and me out from any family gatherings that will occur during the day of "The Game."
Amy AltaVilla, Professional Resource Director, D.C. Metro
My big Italian family has cooked the same Christmas Eve meal for more than 100 years!  We make dishes with seven fishes (also called The Vigil or Feast of the Seven Fishes) and lots of pasta. I enjoy being in the kitchen with my mom and great aunt cooking all day and hearing stories from years ago. The meal and preparation get better every year we do it.
Annaka Whitehouse, CPA, Senior Associate, Cleveland
When I was growing up, my parents would gift my sister and I one or two ornaments every Christmas that reflected something significant about that year. The ornament themes would include a major life event, a vacation, or even just something we were really interested in at the time. Now, every time we decorate our Christmas tree, it's like opening a time capsule of our lives!
Carl Pfadt, Associate Manager, Team Leader, Detroit
We have re-introduced a childhood tradition of making and decorating gingerbread houses. We make the dough from scratch, roll it out, bake it, and pre-build the houses. Then we invite our friends over for drinks, candy, and creativity. It's fun to see how the houses become a unique expression of each person's style.
Greg Sarratori, Associate Director, Charlotte
Every Christmas Eve when I was growing up, my mom would cook a feast worthy of the three kings. It is a Polish tradition known as Wigilia, which included homemade mushroom soup, breaded haddock and cod, and homemade pierogis (the absolute best on the planet). It was my favorite time of year and I've continued the tradition with my own family, although the menu has changed slightly. I added chicken parmigiana, pasta with marinara, and an antipasto.
Then on New Year's Eve, we feast like kings! I cook up monster filets, lobster tails, and scallops along with scrumptious sides. After dinner, friends and neighbors stop by to enjoy adult libations, watch football, and connect. We usually have a few folks who make it past the ball drop and enjoying hanging afterwards to play cards, drink, and being in each other's company. I've been doing this for more than 20 years and each year the number of dinner guests grows!