On Saturday, March 11, Siegfried held its 11th MY Journey™ Firm-wide event, focused on building confidence to strengthen individual leadership.
MY Journey™ was broadcast live to 15 locations across the country, and more than 600 Siegfried employees and special guests participated in activities designed to help them clarify their strategic direction, continue developing mastery in confidence, become more connected to the world, and most importantly, find time to thoughtfully reflect on their thinking and feelings.
As part of the day's events, attendees heard from Rob Siegfried, CEO and Founder; Cindy Gee, Siegfried's CFO and Senior Vice President; and special guest speaker and best-selling author Carey Lohrenz, the first female F-14 Tomcat fighter pilot in the U.S. Navy.
"I have been thinking about the word 'leadership' for a long time," said Siegfried, who hosted the program from the Mandarin Oriental in Las Vegas. "And, it's all about you — about individual responsibility — about accountability. When you are confident, have the right mindset, and focus on the right things, you'll become a better leader for others, and you'll exponentially improve your life and the lives of those around you."
Siegfried led participants in several developmental exercises, asking the group to determine what attributes made them confident, to think about the future, and to seriously consider which of their relationships would best support their goals, now and down the road.
During her presentation, Lohrenz shared her thoughts on how earned confidence in your capabilities makes you a better, more effective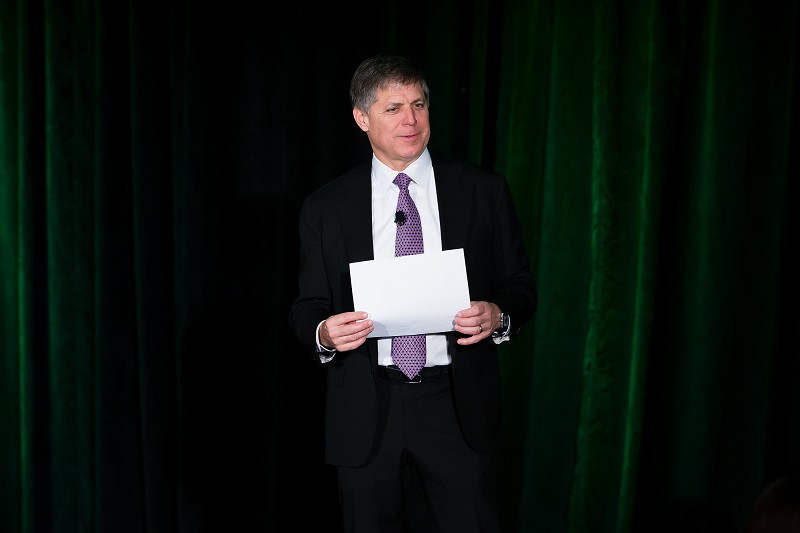 leader. "To lead effectively, we need to have confidence in our competencies," she said. "And sometimes, you have to build the competencies and then have the courage to hop in and do things that make you uncomfortable. That is how you earn your confidence." Following her presentation, Lohrenz answered questions from participants across the country.
Siegfried concluded the day by asking people to share insights about what they'd seen and heard. John Broyles, one of Siegfried's advisory board members and a veteran of the United States military, imparted the following, "Hearing about Carey's [Lohrenz] experience made me think about my own time in the military, where it would have been easy to break down. It took self-confidence for her, and for me, to be strong and not break. It reminds me of the strength and confidence that you all [Siegfried Professionals] have, going into new client environments day in and day out and being as successful as you are when you do it."
MY Journey™

Three times a year, Siegfried hosts a live MY Journey™ event, which encourages individuals to grow personally and professionally to create their bigger futures. Each of these events are built around mastering one of seven different focus areas, such as "Connected to the World" or "Mental Agility."
In addition to being a fun, interactive, and transformative experience, MY Journey™ events promote Siegfried's higher purpose: We help People become better Leaders to exponentially improve their Lives.
"When I joined Siegfried, I was interested in the MY Journey™ events and the Firm's obvious commitment to the growth of our Professional Resources, but I didn't realize just how much they would impact me," said Taylor Barlow, a Senior Associate and Team Leader in Siegfried's Philadelphia Metro Market. "I'm genuinely excited by how much the messages and ideas presented during these sessions resonate with me and get me thinking about, as well as actively planning for, my future. The whole MY Journey™ experience continues to be very rewarding for me."
Siegfried's next MY Journey™ event will take place on May 20 and will focus on Individual Leadership.